A client site I have been working on just went live today. It's a public consultation site for the Law Commission.
They wanted a commentable summary version of their current consultation paper and a general discussion forum. The original consultation paper, "The Admissibility of Expert Evidence in Criminal Proceedings in England and Wales", runs to 98 pages, so the 15 page summary (plus end notes) works much better online.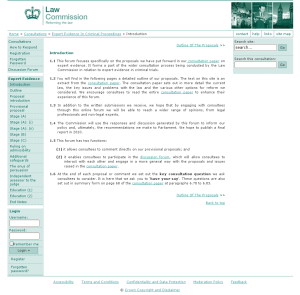 It's built on WordPress, of course, and the forum is BBPress
Check it out and, of course, it is a public consultation, so feel free contribute (registration required).
Short link to this post: https://z1.tl/ms