I have written a little widget plugin to wrap around Daniel Westermann-Clark's iCal Events plugin. Daniel's plugin requires you to add a PHP template tag to your theme files, which some people are not comfortable with. Plus if you change or update your theme you have remember to re-add the template tag. As I managed to forget to do that on a blog I help manage, I thought it would be a good idea to turn it into a widget.
This is the result. It allows you to enter a title, an iCal URL, the number of entries to display, and optionally add a link to a RSS feed of the events (if there is one).
The widget interface looks like this: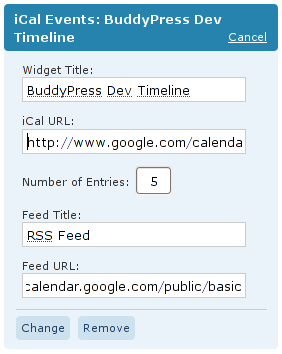 You can download version 1.0.1 of the plugin.
Short link to this page: https://z1.tl/yx