Journalized theme Version 2.7.2 for WordPress versions 2.5 through 2.7 is now available.
The latest version fixes a couple of bugs and is now ready for internationalisation. It comes with Russian translation files (Russian translation kindly supplied by Dmitriy Donchenko)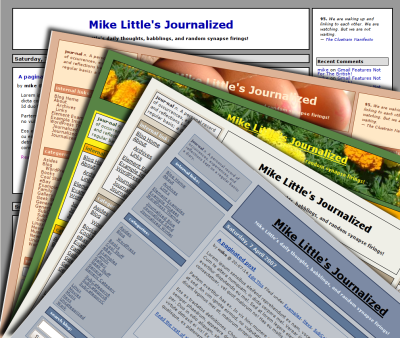 click for a larger image.


or TAR ball journalized-theme-2.7.2.tar.gz
Update: The theme has been updated to version 2.7.2.
The theme has the following features:
Comes with

six

seven built in 'skins' (including the old Blue, Sand, Winter, and Xmas)
A new administration interface to configure the theme.
All known browser bugs addressed. Tested in Firefox, Internet Explorer, Webkit (Safari), and Opera
Support for widgits, tags, and Gravatars
Can be configured to have 1, 2, or 3 columns.
The number of columns can be configured separately for archive pages and single posts or pages.
Supports custom header image, including in the background
Supports full-width or center column header
Compatible with WordPress versions 2.5, 2.6 and 2.7
Supports threaded comments (WordPress 2.7 only)
Supports paged comments (WordPress 2.7 only)
Supports drop-in custom skins
XHTML 1.0 transitional
Supports multiple languages. Comes with Russian as a second language.
Here is a screen shot of the new administration interface used to configure the theme.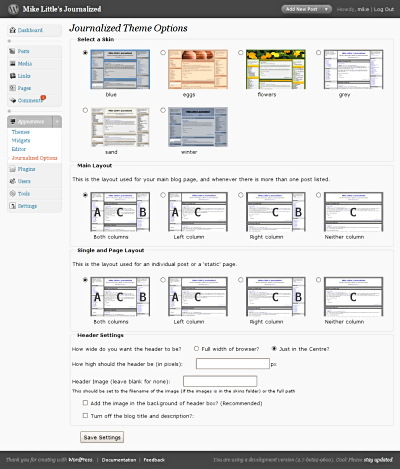 And here is an example of the nested comments. It also supports paged comments in WordPress version 2.7.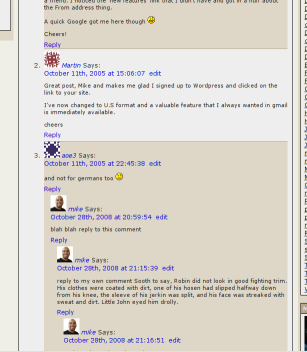 You can configure a number of features of the header: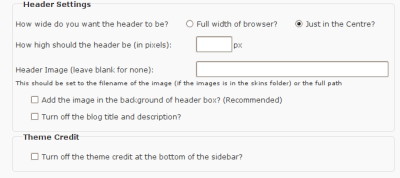 .
After almost two years of inactivity, this theme is finally updated and available again.
You can download the final release here:


ZIP file journalized-theme-2.7.2.zip
or TAR ball journalized-theme-2.7.2.tar.gz.
This version completely replaces all the old versions, including the standalone Journalized Sand, Blue, and Winter themes (unless you are still on WordPress 1.5).
Please give it a try and let me have any feedback in the comments on this page. I have kept the old comments here, just add any new comments as usual. The theme is licensed under the GPL. So you may modify it and distribute it. I'm very interested to hear if you use it, modify it, etc. If you have any questions leave a comment on this post with your question. Comments are moderated so you won't see your comment immediately.
I will write some more information about creating your own skins in the next few weeks. I will also document some of the hundreds of configuration possibilities!
Update: You can now download an extra skin! This is the Xmas skin I occasionally use on this blog. Note this skin is now included with version 2.7.2.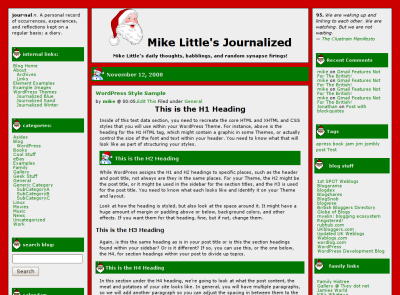 click for a larger image.
You can download the xmas skin here:
xmas-skin-2.7.1.zip.
Once you have downloaded it. Unzip it, then upload the files to your journalized/skins directory.
Go to Appearance -> Journalized Options in the admin screen, and select the new skin.
If you want a picture of Santa to appear along side your blog title, type 'santa.gif' into the 'Header Image' box and uncheck both 'Add the image in the background' and 'Turn off the blog title'.
If you want your header to be full width, check that box and set header image height to be 138 pixels (that worked for me)
Finally save your settings and you are done