I finished creating a new site for Jan last night: it's a Card and Crafting site. She has her first lot of Valentines cards and some crafting embellishments for sale.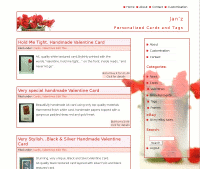 It's all done with WordPress of course. I started with the Dixie Bell Theme from Jen from GeeksMakeMeHot
We are still using eBay for the sale handling, but as soon as I get my head around how to set up my own shopping cart
Doing this is the reason I missed my deadline for the next Journalized theme beta. I'm working on it this evening though so, it'll be here soon.
Short link to this post: https://z1.tl/4n