Here's an interesting Gmail problem I found the other day. One that is a little worrying on two counts. The first: It seems gmail are slow to roll out new features to non-US accounts, And the second: It appears that the code architecture behind gmail is quite poor. Or at least the internationalization of it is badly designed and doesn't use common code.
I recently spotted this post by Aaron Swartz on the Google Weblog:
Gmail: New From Address

Without apparent fanfare, Google now lets you change your From address to any email address you can verify. Click on Settings, then Accounts. Once you've verified the email you can go back there to make the new address the default. (Thanks, Noah!)
Great! This is a feature I have been waiting for for quite a while. Multiple easily selectable from addresses. When I sign up to mailing lists and forums or when I register on a web site, I always give a new email address based on the name of the list, forum, or site. That way I can identify where mail comes from, can filter it more easily (it all get forwarded to the same address), and can trace spam if anyone sells my email address. But posting to mailing lists usually requires the from address to be the same as the one you signed up with. Using Gmail with its single from address makes this a problem. Thus I was really pleased to see this new feature announced.

I tried to follow Aaron's brief instructions but I couldn't seem to find the right part of my settings. Aaron's post pointed to the What's New page Google use to document new features on Gmail. Following the link on that page to the Help Centre page gave me a 404 error. So I emailed Gmail support. Who pointed me to the missing page!
I emailed back to point out that the page with the help was missing, and they eventually mailed me back with the instructions (and I noticed the help page got fixed too). But I still couldn't get it right! When I clicked on "Settings" I didn't have "Accounts" as an option I had "Account Settings"
Then in a stroke of genius, I decided to change my language setting back to US English. I knew that terms like 'Trash' differed between the two language settings: it's "Deleted items" in UK English. So I wondered whether "Account settings" would also differ. On changing over I got much more than I bargained for: Take a look at this screen shot (click for the lager version with full details).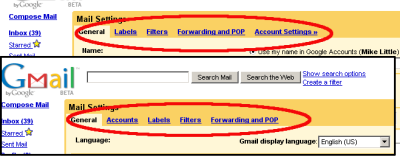 Yes! I do have "Accounts" on the US setting. And I have a "New features" flash at the top of the page. And yes I can add multiple from addresses.
What's amazing to me is that it's not just the terminology that changes when you switch from US English to UK English, the whole application changes too. At least the settings pages do. There are more differences than I've shown in my screen shot. The US version even has a plug for Google Talk on the bottom of the settings page, which the UK version does not. It is clear that it is not the same code behind these two versions!
That means all the new features, at least the configuration interfaces for them have to be written twice, and any bugs will have to be fixed twice. Not very good! I find that astounding in a company a large as Google and with the reputation they have.
Luckily having set up a couple of addresses, when I switch back to UK English, the feature still works. I still can't make changes in UK English though! Plus 10 for the new feature, but minus 5 for the implementation!
Short link to this post: https://z1.tl/41