I've had a good day today. I got some shopping done in the morning. The town centre was very busy with Christmas shoppers. In the afternoon, I took Jamie back into Stockport to take part in a Lantern Parade organised between three local schools. There was a very late start to this. But eventually we got started and snaked our way through Merseyway shopping precinct. The children had all made their own lanterns and the were a couple of large pieces made by some of the same people who made the ones used in the Manchester Commonwealth Games ceremonies. There was also a brass band with us who played as we made our way to Stockport's historical outdoor market. We eventually made our way to St Mary's church where there was a group of children playing percussion instruments, including some great bongo playing.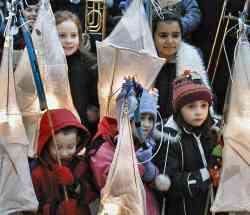 Once at the church a ceremonial Dove of Peace was lit and carols were sung. We didn't stop for the church service as we were getting a bit cold by that time and wanted to get back.
Back at home, Steve, Kim, Graham, and Jackie were there along with all the kids; Thom, Bekki and Megan. We had something to eat and a very enjoyable evening. We did one of those pop quizzes that has been doing the rounds via email recently. We managed a magnificent 94% between us! The kids watched a Spice Girls concert on tape amongst other things.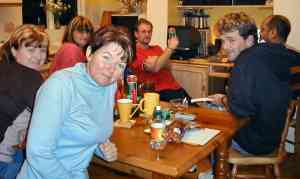 Thom also took some great pictures of the girls; I'm going to ask him if I can put them in the gallery.
All in all a good day. And it's only the first day of my three week holiday!
Short link to this post: https://z1.tl/pj