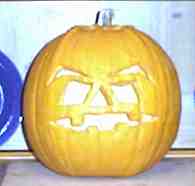 I thought I'd get into the spirit of the season with a new theme! Do you like it? I like the fact that the ghosts don't move when you scroll. Spooky!
Jan's decorated the house ready for tomorrow. Jamie is going over to Bekki and Thom's tomorrow for Bekki's Halloween party. It's finishing early so I'm going to miss it. I've asked Jan to take pictures though.
I carved my first ever pumpkin tonight! What do you think of him? Mean looking isn't he?
Short link to this post: https://z1.tl/dq