We've just had another two earthquakes or at least tremors. This time I felt them both. 🙂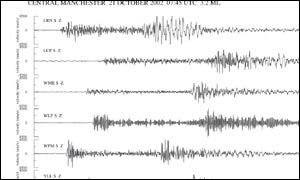 The epicentre was within a mile of me. I wasn't in the office, which being nine floors up got quite a shaking. Nothing too dangerous, but the people in the office said it was quite worrying.
I spoke to Jan at home, and she said that all the chimes and various dangling things in Jamies's room all set off jangling. Jamie thought it was quite exciting!
The earlier story at the BBC news site has been updated.
Short link to this post: https://z1.tl/b