At last, a mere week late, I have released my blog layout and colour scheme as a WordPress theme.
Clicking the thumbnail below will show you a full size screen shot of the theme in action.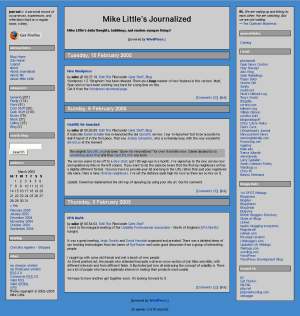 You can download the files from here: journalized-blue-theme-1.0.3.tar.gz (tar ball for Unix or similar users) or journalized-blue-theme-1.0.3.zip (zip file for Windows users).
To install simply expand the archive on your local machine. You should have a directory called 'journalized-blue'. Upload the directory and the files within it to your wp-content/themes folder on your server. Login to your blog's administration pages and go to the Presentation page. The new theme will be listed there ready for you to select. If not check the permissions on your uploaded files.
You will need to tweak it a little. Not least to change the link categories in the calls to wp_get_links().
Enjoy! The theme is licensed under the GPL. So you may modify it and distribute it. Please let me know if you use it, modify it, etc. If you have any questions leave a comment on this post with your question. Comments are moderated so you won't see your comment immediately.
Update: I have updated the download files to a new version along the rules and guidelines for the theme competition
Update: The permanent home of this theme is now https://journalized.zed1.com/themes/journalized-blue
Short link to this post: https://z1.tl/h9