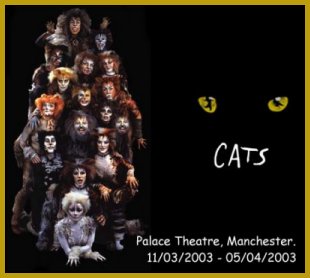 Yay! We saw Cats today. It was fantastic! We all thoroughly enjoyed it. The Palace was packed, I don't think there was a single empty seat. I'm so pleased that Jan was able to make it. I think she was in a lot of pain, but she doped herself up with pain killers and managed to survive.
The show was great. There were some really strong voices in the cast, I'd say stronger than when we saw it at The New London Theatre, particularly Chrissie Hammond as Grizabella. The cast made execellant use of the relatively small set, and despite the comparatively awkward layout of the Palace, managed to make a few appearances amongst the audience.
In my opinion, there were only two niggles; Nicholas Pound as Old Deuteronomy — his voice was fine, but his acting was lacklustre; and the legroom in the circle seats was a joke — I couldn't even sit straight in the seat. I had to either sit with my legs to one side and my back twisted, or sit with my legs spread wide. I'm not that tall really at a shade under six foot, there are plenty taller. Within an hour my back was very painful. It must have been agony for Jan.
But the show was worth it. We picked up some more merchandise, including the Cats – Ultimate Edition DVD, which we then watched as soon as we got home!
If you get chance to see this show, you must! Highly Recommended.
Short link to this post: https://z1.tl/nf