Wow! Here's an interesting development moving on from those tiny R/C cars! Konami have produced tiny remote controlled tanks that can shoot each other! — Combat DigiQs.
There is a great, in-depth review by Dan Rutter over at Dan's Data.
"These are tiny little remote controlled tanks that fight. Up to four can play. They're a bunch of fun."
"The Combat DigiQs are so small that you can stage a satisfying battle on a coffee table. You don't have to use the carpeted floor. And they are tracked vehicles, so they can clamber over small obstacles quite successfully."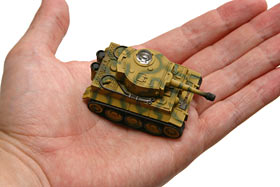 "They charge in about 10 minutes, and run for up to 15 minutes, which is good."
Hmmm. I would love to get a couple of these!
Link courtesy of slashdot
Short link to this post: https://z1.tl/te